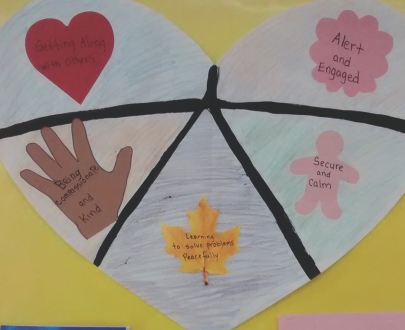 Ever wondered how to take a positive parenting experiences and, like a seed, nurture and grow it? Research suggests that focusing on the positive...results in more positive behaviours[1]. We can also add new behaviours into our "garden" by learning from other people's strong experiences and stories.
South Vancouver Family Place is committed to celebrating the strength and resilience[2] of families in order to foster Heart-Mind well-being. Their angle?[3] A visual arts and storytelling project to promote Heart-Mind Well-being: Growing a Tree of Empathy.
The project, that lasted over a number of weeks, became a tree of Heart-Mind well-being strategies! Staff and parents worked together to create five paper cut outs, each representing a positive human quality; gets along with others, compassionate and kind, solves problems peacefully, secure and calm, and alert and engaged. Families personalized each cut out by gluing one side with a photo or picture, and, on the flip side, capturing a caption or story about how they practiced this quality in their family. The cut-outs, once complete, were hung from the branches of a huge tree mural in the Family Place.
"What I enjoyed most about the project was giving our families an opportunity to share with us what they are already doing to educate both the hearts & minds of their children."  Staff Member
Want to do your own Heart-Mind Project? Be intentional and explicit in a number of ways:
Identify the Heart-Mind qualities your project will promote.

Talk to all participants about which elements of your project will enhance Heart-Mind well-being.

Identify how you will know whether or not these Heart-Mind qualities are enhanced?

Over time, continue talking about what evidence you are seeing that your project is having a positive impact on Heart- Mind well-being.

Celebrate your success! Share your discoveries with others.