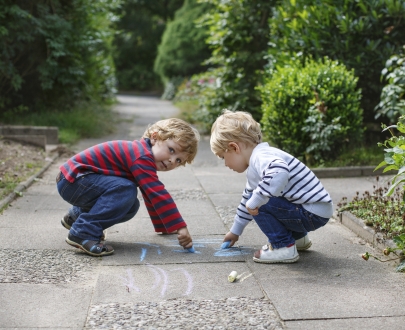 How often does your child outgrow their clothing? Looking for "the next size up" in the clothing department is a regular occurrence and as parents it is easy to see when physical growth is happening. What might take more careful observation and deciphering is the growth that is occurring for our children in the social and emotional realm.  
One of the easiest ways to spot this growth and encourage it[1]...is by looking at what is happening in their PLAY!
There are many different types and stages of play[2] that have been identified in research over the years. Developmental Psychologists have identified the "original four" stages of play. Each stage builds a young child's emerging skills[3] in emotional management, impulse control, empathy, creativity and being a friend.
Solitary play
– alone (~2-2 ½ years)
Children's play during this stage is about exploring and making meaning of their world - physically and emotionally. It might be a tricky to see social benefits from solitary play,  but there is significant learning and brain development happening. It's important to be responsive to your child during their play to build self confidence, create trust, and strengthen early attachment relationships.
Parallel play
– children play alongside each other (~2 ½ to 3 ½ years)
When we see children play in a parallel fashion - side by side - it may appear that there is little interaction taking place. Look again!  While children may seem to ignore their companions, they are actually observing, noting what peers are doing, and may begin to imitate others.
Associative play
– play and share (~3 ½ to 4 1/2)
Here we have mutual activity taking place but not yet in a cooperative way.  Often children are interested in and interacting with others but their activities are not in sync. Donald Winnicot[4], a British paediatrician, wrote that play becomes a joint construction and has 'the precariousness of magic itself, magic that arises in intimacy, in a relationship that is being found to be reliable."
Cooperative play
– defined division of labour and shared purpose (~4 ½ and up
)
This stage of play that focuses on shared efforts and common goals often starts between ages 4 and 5 but evolves throughout the rest of the school years (and life). Cooperative play is an activity that requires taking turns, sharing, negotiation skills, and many other skills that are foundational for building and maintaining relationships.
One "playful" note of caution, while there are assigned ages to the different stages of play based on how children develop as they grow, it is important to note that there will be variations. For instance, the need for solitary play, though often one of the early stages of play, may recur at any age. Even adults still enjoy some solo activity such as knitting, reading and walking - a mature version of solitary play! Children will continue to sometimes play alone and sometimes with each other... and will move in and out of group play as they enter into the school years.
Through these various types of play, your child (alone, with peers and with adults) is embarking upon a process of social and emotional development! Play, if fostered, valued and understood, has the potential to increase Heart-Mind well-being in families, schools and society!