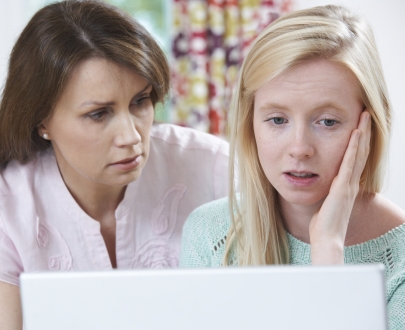 There is a fear among parents about the risks (real and unknown) that lurk in the online world. This fear feels different, and is different, than the risks on the playground or among children or teens at school. Cyberbullying[1] means being victimized online and the potential repercussions cause any parent to shudder - low self-esteem, depression, anxiety, social isolation, substance misuse and suicide.
There is also a fear among youth that because parents don't understand technology, that it will be taken away because of those risks (or realities). The loss of online connections among today's digitally connected youth is threatening because, as published in the Journal of Adolescent Health, "the use of mobile devices now makes screen use the centrepiece of young people's social lives."
So what's a parent to do?
First, know that research has found that online activities hold opportunities as well as risks. These "benefits" may include enhanced self-esteem, quality relationship building and the development of autonomy[2]. These are important to healthy development as youth learn to control for themselves how they come across to the world and what they share publically.
Cyberbullying is, undoubtedly, a risk and parents[3] need to keep an open mind, and want to know what's up online. Studies show, however, that when parents control access to digital technology and "just ask" about their child's usage, they don't get a clear picture of what's going on. Having children and youth tell them (on their own) is the primary predictor of parental knowledge[4]. The best way for that to happen is not through making demands and over-monitoring, but by creating a safe, positive, open relationship between the parent and the child.
Dr. Jennifer Shapka (of UBC's Developmental Change & Technology Lab) suggests that cyberbullying is about relationships NOT about the technology. She suggests giving young people the skills to recognize, avoid and prevent cyber-bullying using three key relationship strategies. Follow the links to find out practical next steps for each strategy.
Start with a long-term investment in a safe and open relationship[5] between you and your child.

Help them learn about healthy relationships that include empathy and compassion[6].

Create developmentally appropriate levels of responsibility[7] and trust both online and off.