The Dalai Lama Center is fortunate to work on the traditional, ancestral, and unceded territory of the šxʷməθkʷəy̓əmaɁɬ təməxʷ (Musqueam), səl̓ilwətaɁɬ təməxʷ (Tsleil-Waututh), and Skwxwú7mesh-ulh Temíx̱w (Squamish) peoples. You can find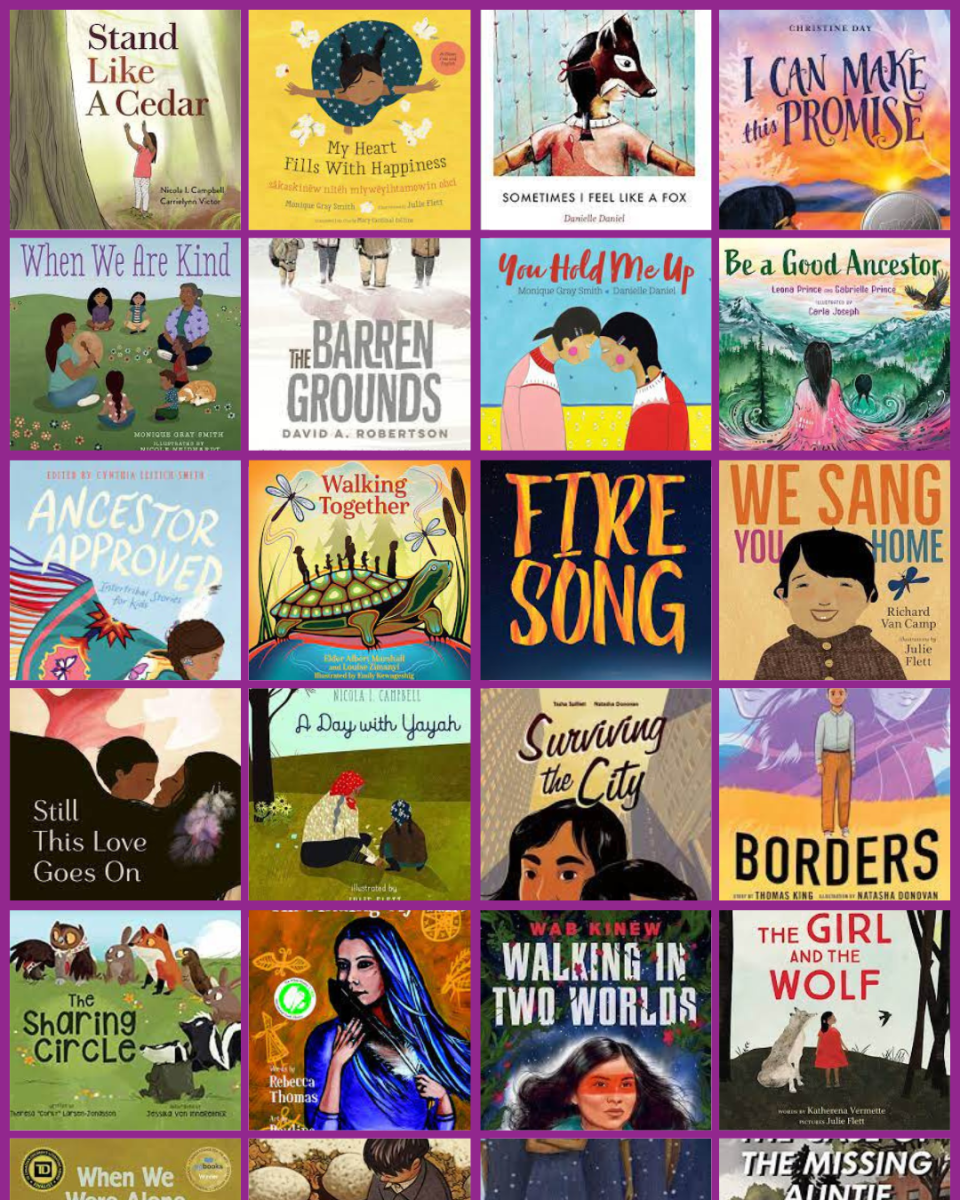 out whose land you live and work on at Whose Land.
This Indigenous Connections and Perspectives Children's booklist features a collection of pieces from Indigenous authors from all over Turtle Island. This booklist hopes to expand readers' understanding and consideration of the beauty, individuality, and uniqueness of each author's voice and to spotlight the diversity showcased in these stories.
It can be a daunting task to explore stories that exist outside our own culture or personal experience. Work with the titles on this booklist with an open heart, good intentions, and willingness to learn from mistakes, to support you to take the next steps in your learning journey. This list is not a finalized document but something that will continue to grow, change, and evolve on the journey of working toward reconciliation.
The books on this list will allow readers of all ages to explore and learn more about themselves and others in thoughtful and meaningful ways.
Each story is connected to the 5 qualities in the Heart-Mind Well-Being framework: Secure and Calm, Gets Along With Others, Alert and Engaged, Compassionate and Kind and Solves Problems Peacefully. Our booklist is an opportunity to build social and emotional skills with children while also learning about Indigenous connections and perspectives. Readers of all ages will love the exploration of new stories and the adventures of the characters within them.
The links between empathy and reading literary fiction are well documented. A 2019 study looked at how children's story books foster identification with characters who are dissimilar from the readers. Reading 'own voices' stories from diverse perspectives offers children and young people an authentic window into someone else's experience.
Heart-Mind Well-Being Extension Activities
The following are some extension activities that can help readers of all ages learn more about Indigenous knowledge, voices, and history while also extending their learning into Heart-Mind well-being beyond the pages of a book:
Read, listen and watch different Indigenous perspectives
Children and youth can experience different authentic Indigenous voices across many different media platforms. This could be reading different works, listening to Indigenous voices, old and young, and watching movies or shows demonstrating an authentic voice. CBC Indigenous has kid-friendly content that offers both factual information and Indigenous TV shows.
Attend Indigenous events or celebrations
Young people can attend events open to the public in local Indigenous communities to learn more about Indigenous perspectives. This could be a Pow Wow, National Indigenous Day celebrations, Indigenous Remembrance Day ceremonies, Orange Shirt Day gatherings, and many more.
Go out and explore the land
Kids should go outside to explore the local landscape, mindfully forming a stronger consciousness of those that lived there first. They can also find ways to not only enjoy the natural environment where they live but also to protect and improve it. This could be going for hikes or nature walks. It could even be cleaning up trash in a local area or participating in a fish or water conservation project.
Make Indigenous connections
Another way young people can make Indigenous connections is to speak with local Elders and learn from their experiences. They could also seek out local friendship centres to expand their social circle. Making meaningful and authentic friendships and connections with people from diverse cultures is important to nurturing children's empathy for others.
Have an open heart and good intentions
Encourage the children you care for to examine and engage with authentic Indigenous voices with an open heart and good intentions. This allows them to make vital holistic connections and develop skills necessary for social-emotional learning such as empathy and reciprocity.
Click the icon below to download the Heart-Mind Well-Being with Indigenous Connections and Perspectives Booklist, which includes titles for the early years, middle years, tweens and teens!