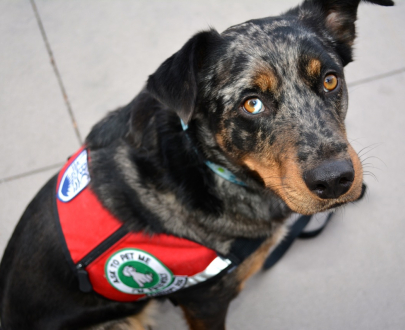 Rosie is part of the faculty of education...sort of. She is a highly trained therapy dog who has been an active assistant in teacher training with Dr. Ty Binfet at the University of British Columbia Okanagan[1]. Dr. Binfet uses Rosie to help students understand approximations of learning in children. In other words, by teaching Rosie, students experience accepting mistakes from their "subject" during the learning process. They also get a chance to practice applying techniques such as encouragement and feedback to guide her learning.
In addition to helping students develop their teaching skills, Rosie's presence adds to a positive, social and low-stress learning environment. These benefits are reflected in the literature[2] examining the use of companion animals, especially dogs, with children and youth. Across studies, spending time with therapy dogs has proven to have social, emotional and physical benefits to children and youth. One of the key findings is that when therapy dogs are introduced in small group settings (e.g. one dog, one handler, and several students), the dogs serve as "social lubricants" or social catalysts that facilitate children's interactions with each other.
Consider enhancing your child's school experience by organizing a class visit from one or more therapy dogs! This is a unique opportunity to support the social and emotional growth of students.
What You Might Do:  

Invite an existing Animal Therapy Program[3] into your School. Most urban centres will have organizations who facilitate and oversee animal-assisted visits to hospital settings.
Why Might You Do This?!
Although therapy dogs may certainly reduce stress in children and adolescents, regular organized interactions can prevent stress from occurring in the first place.  Research shows[4] that both proximity to dogs and hands-on contact with companion animals is (among other things) beneficial in reducing stress.