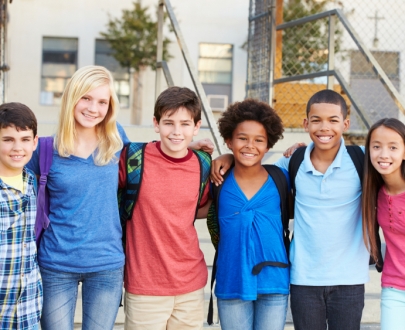 Friendships can fuel positive social development during childhood. Building and maintaining friendships is difficult, however, when physical, communication or cognitive differences lead to social isolation and exclusion.
Making friends (relationships that go beyond surface interactions) requires motivation, opportunity, confidence and skill.  In general, a peer-mediated friendship[1] initiative/approach means that developmentally-typical children become the facilitators and instructors to foster desired social behaviours. The approach leverages the interest and willingness of children to learn and apply friendship skills with a "focus child" - someone, their own age, at risk for social isolation.
Club G[2] is an example of one successful approach, well suited to Ges (the focus child), his family, his peers and the school. Wendy Holtan, featured in the Club G video, has been working with children (primarily along the autism spectrum) for decades. Her philosophy, passion and on-the ground experience form a solid base for the following sage advice on the many variables that influence any new peer-mediated friendship initiative.
1.  Plan – consider the many variables!
Using a "cookie cutter" approach when working with children just doesn't make sense. There are too many variables involved to use identical strategies in multiple contexts. This is especially true when working with a child who struggles with communication, social skills or physical abilities.  In these special situations the importance of planning and anticipating the variables[3] involved becomes even more essential.
In the planning stage of developing a peer-mediated approach to building friendship skills consider:
What are the Desired Outcomes?
Why are you doing this?

What do you want out of this?

What is the pay off for everyone involved?
Who are the Players?
Who is involved? (eg. parents, staff, children, other?)

What is the engagement level of each of the players?

What is the knowledge base of each of the players?

Who are the champions?

What is the developmental stage of the children involved and how will that affect strategies chosen?
Practice shows that earlier intervention is more helpful in establishing an accepting peer group. After the age of ten [4], it may become more challenging to engage children in peer mediated friendship because of shifts in social norms towards being "good enough", "similar enough" and status oriented. These social development nuances affect strategy choices for youth as compared to younger children.
2.  Demystify
"When we don't know what to do we often become fearful and out of that fear grows anger and mistreatment. I think when we have strategies and tools to interact with someone or a situation that is different from us – it will calm us, we can stay open and we can grow from it."   Wendy Holtan
In a peer-mediated friendship initiative, adults have the opportunity to facilitate a process of making differences less scary and more acceptable, and to universally promote the qualities of friendship. Before jumping into a peer-mediated initiative, the demystification process breaks down many attitudinal barriers[5] that have been found to increase the reluctance of peers to initiate interactions with the focus child.
Choosing the best activity fit to "Demystify" will be influenced by the planning phase.  You may choose to bring in a specialist for this step or customize a classroom or school-based strategy. Typically this step is broad, inclusive, and extended to a wide audience. It not only influences school culture but also helps to prime children to make an informed choice to participate in a peer-mediated friendship initiative.
Key elements that help to demystify physical, communication or cognitive differences of the 'focus child' include:
Modeling and identifying kind and compassionate behaviours in the classroom and throughout the school. Work towards including the peers in the process of both identifying and noticing these behaviours.

Introducing the abilities and the challenges of the focus child.

Giving an experience that approximates the challenges facing the focus child.

Emphasizing what it means to be a friend and working towards developing a co-constructed definition of friendship with the peers. 
3.  Educate
Finally, with a strong base of planning, with a team of champions and with children aware and empowered to participate, you are ready to design the techniques to educate the participants who volunteer to be part of the peer-mediated friendship initiative. The evidenced-informed[6] principles for this stage include:
Prepare adults to facilitate a safe place for peers to take interpersonal risks that they normally wouldn't be exposed to

Provide frequent opportunities for peers to become familiar with the world of the focus child. Celebrate the abilities and experience the challenges through games. 

Teach appropriate friendship skills to both peers and to the focus child - sometimes at the same time, sometimes separately. The peers and the focus child may require different skills or different methods of instruction.  Evidence[7] indicates that skills such as ways to initiate, respond to and maintain positive, equal-status social interactions foster friendship competence. 

Select a variety of instructional activities to reach your goals including role plays, guest speakers, films & videos, books (fiction and non-fiction), visuals (prepared or co-created with peers), video modelling and games.

Empower children with information and support to be the drivers of the activities and sustainability of friendship efforts. You might choose for this to be a small group of peers or, as in the case of Club G, it may be large. Work towards including the peers in the adaptation of activities to suit the focus child.