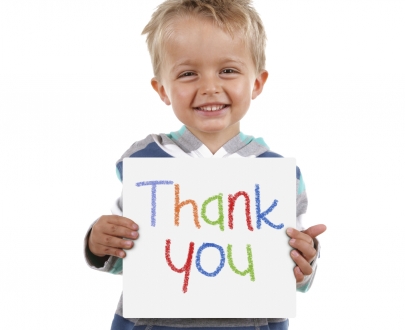 Early in life, many toddlers are taught to say or sign "thank you" in ongoing attempts to encourage children to be polite and show appreciation. We've all experienced social moments when children are prodded by parents to "say thank you."  This can be awkward because while these small social moments are great learning opportunities for children, someone not doing the direct "teaching" may be unsure how to react.
Developmentally, the window of opportunity for gratitude to truly take root is believed to begin around age 7. It is at this time that children begin to develop a more complex understanding of emotions - their own and those of others. With a lot of practice (and coaching), emotional understanding, social interaction skills and empathy merge and open the door to authentic feelings of gratitude. Through middle childhood (9-11) and into adolescence, children continue to hone their ability to take on the perspectives of others, see other people's actions with empathy, and experience being grateful.
Showing gratitude is much more than good manners and the resulting physical, social and emotional rewards are many. Gratitude research falls into the realm of positive psychology and is linked to the following benefits:
The gifts of gratitude go both ways! Research shows that expressed gratitude positively affects the "giver" and the gratitude "receiver". For example, people who are thanked are more likely to behave positively towards to the person who thanked them (and to others) in the future. There is a gratitude theory called find-remind-and-bind[7] which suggests that expressing gratitude is a key hook and catalyst in building strong and positive relationships.
Next time you see a parent prod their child to "say thank you", help maximize the learning moment by appreciating the gesture and acknowledging the child (and parent) for offering the gift of gratitude.