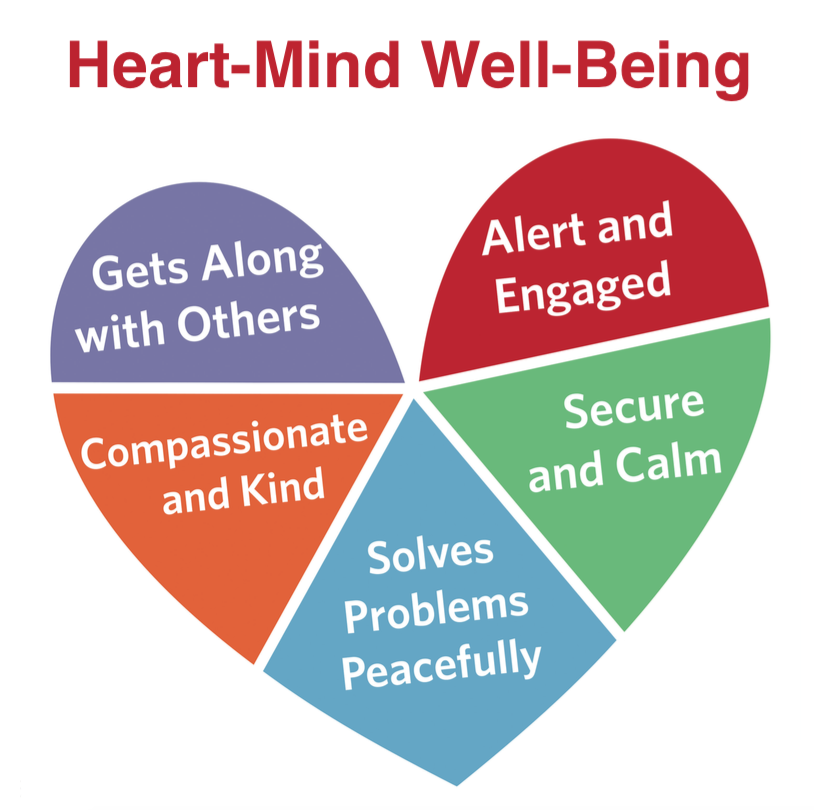 The Heart-Mind Well-Being "heart" is a powerful tool for fostering social and emotional development and well-being in children, youth and adults. It was created as a visual representation of five positive human qualities that researcher from the fields of developmental and educational psychology and human development tell us are essential to promoting overall well-being. The heart framework offers a way for caring adults to organize, plan and inspire to create environments and opportunities that contribute to healthy learning and development.
Here are 7 ways that Educators use the Heart-Mind Well-being Framework:
1. Organize lesson plans or activity themes that promote the 5 qualities through the week, month or year.
2. Balance priorities (in a school or across a district) with a holistic view of a child's social and emotional learning.
4. Set expectations and standards of behaviour and attitude for both students and staff, by linking them with specific skills and strategies that support each quality.
5.
Integrate
a Heart-Mind Well-being focus into content and learning objectives by applying subjects such as art, reading, writing, math, science or language skill development in engaging
Heart-Mind Well-being projects[

2

]
.
6. Display the Heart Mind Well-Being "heart" in your classroom and school. Make it part of your "hidden curriculum" or, in other words, the implicit messages that children pick up from their environment through visuals, words, celebrations and behaviours.
7. Adopt the Heart-Mind framework as a workplace wellness initiative, planning professional development and personal development opportunities for adults to increase their own Heart-Mind Well-being.

Download your printable Heart-Mind well-being poster! 

Take advantage of the Heart-Mind Book lists - librarian recommended choices that foster Heart-Mind well-being.
Class project ideas from Heart-Mind Online: