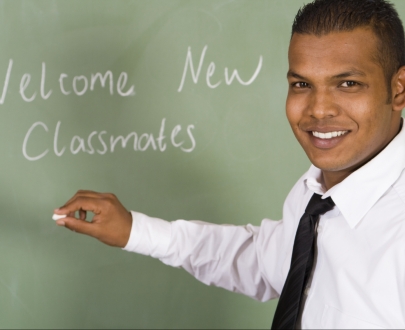 A "symphony of second chances". This is how high school teacher Clint Smith describes a classroom that honours and fosters the resilience in children and youth. In his 2014 Manhattan TEDx talk[1], Smith poetically celebrates human triumph when the world expects the opposite.
How can we cultivate opportunities for "the rose to grow from concrete"? What is the role of schools to strengthen resilience in children and youth?
To maximize opportunities to build resilience in children (the inner strength to overcome adversity) research suggests that there be less focus on "changing children" and more on shaping their environments for positive development. Developmental psychologist Urie Bronfenbrenner[2] used the analogy of Russian nesting dolls to describe how development is influenced by the interaction of temperament and the different environments in which the child lives. The family home, neighbourhood, school and child care setting all nest around, interact and influence a child's growth and development.
This is a powerful call to action for teachers, counselors, school administrators and all school staff who create spaces in which a child spends at least six hours of the day. "Everything that we do that makes it more likely a child gets what they need from us at school, and indeed from their families and from their communities is going to really make that child's life trajectory ... that much more likely to be successful," says resilience researcher Michael Ungar[3].
Both individual classrooms and the wider school culture are opportunities to support child development and student success.
What teachers can do in classrooms:
Understand and accept that teachers have a significant impact on learning and behaviour[

4

].
Model resilient skills and behaviours. In order to build resilient students, it is critical that teachers themselves are socially and emotionally competent[

5

]
Show empathy and perceive the world through the eyes of students.
Hold positive expectations for all students with clear boundaries and offer a safe predictability. "You can make it! I'll be there to support you!"
Actively create a safe and secure classroom climate knowing that fear is the biggest obstacle to learning.
Maintain positive, respectful relationships with colleagues.
Integrate social and emotional development into the curriculum and not treat it as extra-curricular.
What schools and districts can do:
Focus on building constructive relationships with and between students, staff, and families.  Studies[

6

] show that youth at risk do better when schools communicate with parents and caregivers. 

Structure learning experiences to develop consistent attachment relationships between a student and teacher/counsellor.

Build opportunities for meaningful student participation[

7

]. 
Strengthen the capacity of teachers to implement social and emotional learning approaches.

Remember that children who face significant adversity in their lives need the more help. Universal approaches are important and should also be augmented by targeted efforts for those most at risk.

"Velcro" ideas, programs and successes together to shape the school environment to strengthen resilience. Complex problems require complex solutions. Avoid one-off or fragmented approaches.
Don't confuse personal resilience and getting good grades. Being able to overcome adversity in life isn't always the same thing as being able to handle academic challenges. Resilient children and youth, however, feel capable and with access to timely and relevant resources such as study skills and problem solving, they reduce the chance of falling behind in their learning journey.