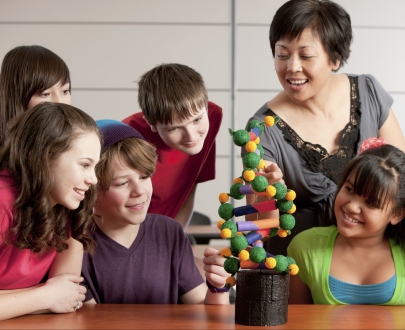 Science helps to answer many of the questions emerging about schools today;
Are schools providing a safe haven in which learning can occur?
How can schools help children develop skills and competencies they need for life?
How can we ensure every student will realize their full potential?
A growing number of schools have a focus on social and emotional learning thanks to evidence that social and emotional learning not only improves attitudes and behaviours in the classroom but also improves academic performance[1]. Recent scientific discoveries about brain development and children's social and emotional development point educators towards strategies in the classroom that support the education of children's minds and hearts.
Finding 1: Schools teach social and emotional learning through the "hidden curriculum."
A school's hidden curriculum is the implicit messages that children pick up from the environment[2].  What images are on the walls? What is the emotional tone in the front office? How many adults greet children by name? How do adults treat each other? What is celebrated and what is expected?
Strategy: Do a Heart-Mind audit of the hidden curriculum in your school. Ensure what children see is positive, supportive, and kind.
Finding 2: Social and emotional skills are "malleable" and "sticky."
Neuroplasticity is the technical term used to describe the  brain's ability to change as a result  of positive (and negative) experiences. It used to be accepted that brain growth was limited to early development, now it is known that the brain continues to mature and can be "re-trained" even in adulthood.
It is possible to explicitly teach social and emotional skills (for example, learning mindfulness practices has been shown to increase grey matter density) and long term research [3]studies show that the positive effects of social and emotional learning are still apparent 15 years later!
Strategy: Integrate social and emotional learning activities into every day. Explore evidence-based social and emotional programs highlighted by the Collaborative for Academic, Social, and Emotional Learning.
Finding 3 - Support students by supporting teachers.
A safe and caring classroom climate is a key element in both the hidden curriculum of Heart-Mind well-being as well as a requirement for social and emotional learning success. Research demonstrates an unsurprising relationship between a teacher's social and emotional competence and professional burnout. What is encouraging, however, are results that suggest that strengthening a teacher's social and emotional competence[4] will also improve learning outcomes for students. Teachers that are calm, positive and content are likely better equipped to treat students warmly. Students with high-quality relationships with teachers have better social adjustment and higher academic performance.
Strategy: Acknowledging the stressful and emotional situations that may compromise a teacher's ability to develop healthy relationships with students and may spread stress and anxiety to students is a first step towards improving conditions that support teachers. Promising interventions include emotion-focused training, fostering positive teacher-student interactions, mindfulness and stress reduction practices as well as regular, social and emotional learning routines that benefit both the teacher and the students.
Finding 4: Focus on well-being instead of fixing problems.
Science is providing evidence that positive emotions and activities that increase well-being have preventative and protective[5] effects against mental health issues. While the reality is that Canada spends $14.4 billion dollars annually on the treatment of mental illness, 1 in 5 children/youth have a significant mental health problem and half of all lifetime mental health disorders start by the age of 14, it is also true that there is a strong opportunity to reduce these problems through prevention.
Strategy: Prioritize activities for students that promote happiness, foster kindness and compassion and identify mental health challenges early. Activities that have been shown to promote happiness include; writing letters of gratitude, performing acts of kindness, using strengths in new ways and counting your blessings.