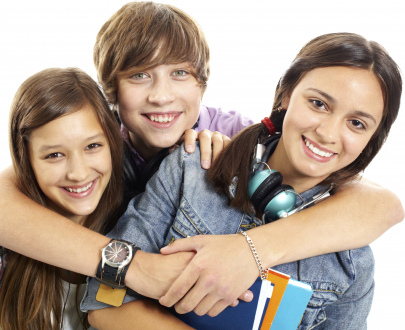 Humans are wired for touch. Beginning in infancy, we discover our world this way. Emerging research on touch shows how wide an effect it has on our social and emotional development. 
Our society has developed a variety of responses and judgements to touching. Even in North America, where touch happens less than in other cultures, it has been found that its effects are still profound. Our need for touch seems to be hard-wired into our biological systems. Humans can (up to 78% of the time) accurately communicate six common emotions[1] by using touch only including anger, fear, disgust, love, gratitude, sympathy. This is the same accuracy as we have when decoding facial and verbal expressions of emotions. 
What do we mean by positive touch? Positive touches are fun, caring or helpful. Positive touch, additionally, provides a physical cue for connection - both for the sender and the receiver.
STRESS & ANXIETY
Babies prefer social interactions that include touch. Those babies that receive physical contact are more secure and calm[2].
People who are "touch-deprived" are more depressed, get sick more often and demonstrate more violence and drug misuse. There is a physiological effect when pressure receptors in the skin are touched that is biologically linked with immune function and mental health.
DEPRESSION
Studies[4] with mothers who suffer from depression have shown significant benefits of massage for both themselves and their babies. Levels of maternal depression decreased following a 12 week trial of receiving massages from their partners. There were additional benefits for the baby. In addition, infants of depressed mothers who received massage therapy became more responsive, gained more weight and showed greater soothability.
AGGRESSION
In an international study on the effect of touch, both preschoolers and teens in France, who grow up in family environments that are typically very affectionate physically, are significantly less aggressive than their American counterparts.  The research scientists, who set up shop in playgrounds and McDonald restaurants to observe behaviours, discovered that children and youth who experience more touch with families and with peers are generally less aggressive[3] verbally and physically.
FRIENDSHIP & TRUST
There are pressure receptors in our hands which means that when we touch someone in a friendly manner we derive similar positive benefits to the person receiving the touch.
People are more likely to give someone something[5] if they receive a friendly touch at the same time that the request is made. This goes for things like asking for a favour, selling a car, or demonstrating a math problem in school.
Basketball teams[6] who had more on-court touching among teammates actually proved to be more successful teams by the end of the season, independent of salary and skill level.
Massage therapy[8], in particular, has been shown to be an effective form of touching. Studies show that it reduces pain, both in chronic conditions and during cancer treatments. Massage therapy has also been found to heighten alertness and attentiveness as measured by EEG patterns. With children and among married couples, massage also decreases levels of stress hormones, heart rate and blood pressure while enhancing immune function.
The research is clear that we can soothe, connect and promote well-being with authentic and affectionate touch.